INSPECTIONS & EMISSIONS
INSPECTIONS & EMISSIONS
Some states require regular safety inspections and/or emissions inspections on cars and trucks. At Ray & Dana's Inman Auto Care, we are well-equipped and trained to perform these inspections. Our technicians can also perform multi-point inspections on your vehicles as needed.
These are some of the inspection services we offer.
Digital Vehicle Inspection
We are a digital shop giving our customers full transparency.
What is a Digital Vehicle Inspection? It is a tool that allows us to take pictures and videos of the inspection performed on your vehicle. We check your car battery, fluids, tires, suspension, brakes, or any concerns you may have. We then send the report by email and/or text. Doing this helps reduce the chances of a "surprise" car repair when performed at every service and gives our customers control and transparency, so you can make the best decision for repairs and maintenance on your vehicle.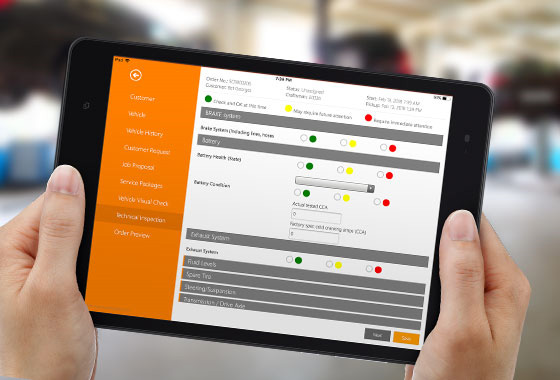 NJ State Certified Emissions Repair Facility
A state certified emissions repair facility is a privately owned motor vehicle repair facility, licensed to repair emission-related failures. The repair facility must employ a CERT (Certified Emissions Repair Technician) who has passed a state-required training program. Ray & Dana's Inman Auto Care is a NJ state certified emissions repair facility. Contact us at 732-388-4939 or visit us today for emission-related repairs and services.
NJ State Certified Emissions Test Facility
Did you know that the Motor Vehicle Commission requires you to take your motor vehicle for an emissions inspection every year? This kind of testing is administered through a network of privately owned (but certified) auto repair shops. The auto repair shops carry their official Test Center number. Ray & Dana's Inman Auto Care is a NJ state certified emissions test facility. At our auto repair shop, we can perform emissions testing on all eligible vehicles regardless of fuel type or model year. Visit our shop or call us at 732-388-4939 to make an appointment.
NJ State Inspection Station
NJ state inspection stations are privately owned, but government certified, inspection stations throughout NJ. Ray & Dana's Inman Auto Care is a NJ state inspection station. For your state inspection needs visit or call our auto shop at 732-388-4939.
To learn more about our Inspection and Emission services, call us at 732-388-4939 or request a quote by clicking below:
Request Quote
Testimonials
Linda L

, 10/16/2020
Very professional and courteous. Did excellent job and rides and feels new. No pressure to have work done they give you the choice. Very honest. I find that refreshing as some places try to strongarm you into doing the work. Will definitely go back for other repairs. Happy my son recommended them.
view all reviews