Loyalty Points Program, Car Care Program, Refer a Friend
Loyalty Points Program, Car Care Program, Refer a Friend
Loyalty Points Program, Car Care Program, Refer a Friend
Specialty Programs Loyalty Points Program
After you are registered, each dollar spent equals 1 point in your account. When you accumulate 500 points, a $25 gift certificate will be mailed to you!

Be the first to get your hands on exclusive deals, including special offers and invite-only events, and more!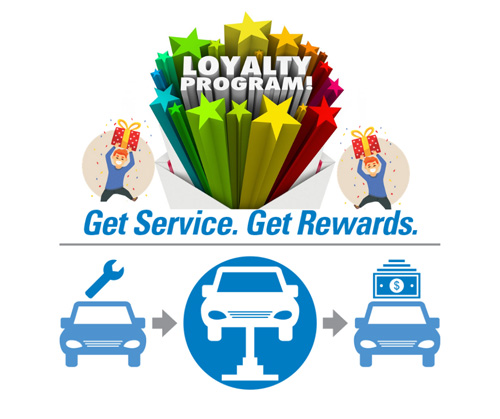 Do You Want To Know How To Get $395.65 Worth Of Auto Repair Services For Only $89.95?
Join our Car Care Club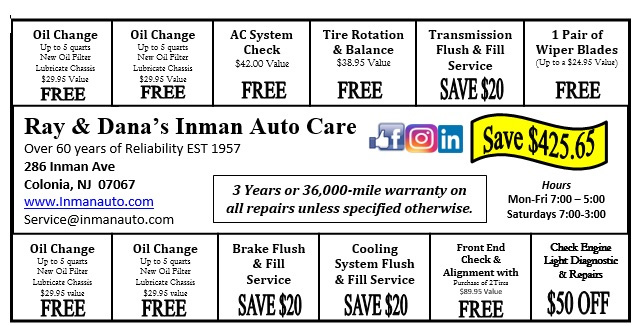 Buying a car is expensive. And unfortunately, maintaining that car to keep it in peak running condition can be expensive too...that is...until now!

We've formed this Club to help you save hundreds of dollars on many of the auto repair services that you'll probably need over the next year in order to properly maintain your car.

Membership Has Its Privileges

When you join our Club, you'll be one of our privileged clients that will get to enjoy hundreds of dollars in savings over the next year. As a member, you'll receive a special Car Care Club Card that is filled with all of the following car care products and services:
FREE - 4 Oil Changes (A $99.80 Value)
FREE - Air Conditioning System Check (A $42.00 Value)
FREE - 1 Pair of Wiper Blades (Up to a $24.95 Value)
FREE - Tire Rotations & Balance (A $38.95 Value)
FREE - Front End Check & Alignment w/ purchase of 2 tires (You Save $79.95)
$20.00 off - Transmission Flush & Fill
$20.00 off - NJ State Inspection (Reg. $75.00)
$20.00 off - Complete Cooling Flush & Fill
$50.00 off - Any Check Engine Light Diagnostics & Repairs.

Add up all the savings and you'll find that you could easily save up to $395.65 over the next year! But even if you didn't use all of the services on the card, the four FREE Oil Changes alone are well worth the introductory price of $89.95.

You're not limited to using your Car Care Club Card on only one car. So even if you're driving a newer car and may not need all of the services on the card, you can give it to your spouse or a friend and let them use it to save money on any repairs they may need. Heck, at this low price, the Car Care Club Card makes an excellent gift for anyone that owns a car.
Refer a Friend
Did you know about our referral program? We appreciate your referrals of family, friends, co-workers, and neighbors.



We give your referral (new customer) $25 off their first service or repairs. Have your referral mention your name and we will credit your account also $25 off for future services or repairs. Feel free to call us if you have any questions at 732-388-4939.
For more money-saving options visit our Coupons Page.
Testimonials
Linda L

, 10/16/2020
Very professional and courteous. Did excellent job and rides and feels new. No pressure to have work done they give you the choice. Very honest. I find that refreshing as some places try to strongarm you into doing the work. Will definitely go back for other repairs. Happy my son recommended them.
view all reviews